Crwydro (wander)
This was a collaboration between artists' collectives Ointment and Boreal Art/Nature. A period of process-led expedition and exchange wandering the woodland and uplands of the Preseli hills. At the culmination of the project the work was shown at Clynfyw Countryside Centre Pembrokeshire. The work produced by Peter came together in the form of an installation consisting of drawings and artefacts crafted by the artist to facilitate the project and in response to the exchange. The objects were inspired by a sense of place, belonging, learning and language.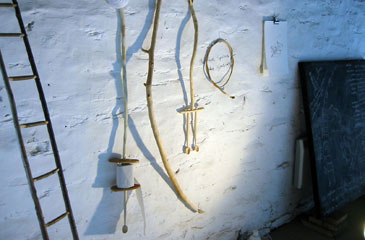 Marcheurs des Bois 2005
In late winter the artist came together again in the Laurentian Mountains of Quebec. Peter constructed a garment out of the Carthen (welsh blanket) and mittens out of Hudson Bay blanket material. Both blanket designs are social signifiers to their respective cultures and in a sense gather history and worlds around them. In simple terms placing the material in the landscape to be witnessed, glimpsed at, to from a surreal lump in the mind. Carved spoons featured again and were displayed in the cabin as kitsch mementos, tourist art and indicators of hybridity.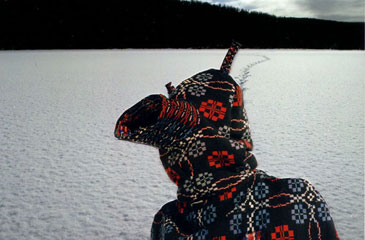 Funded by Wales Arts International
For further information and to view other contributors to the project see www.ointment.org.uk